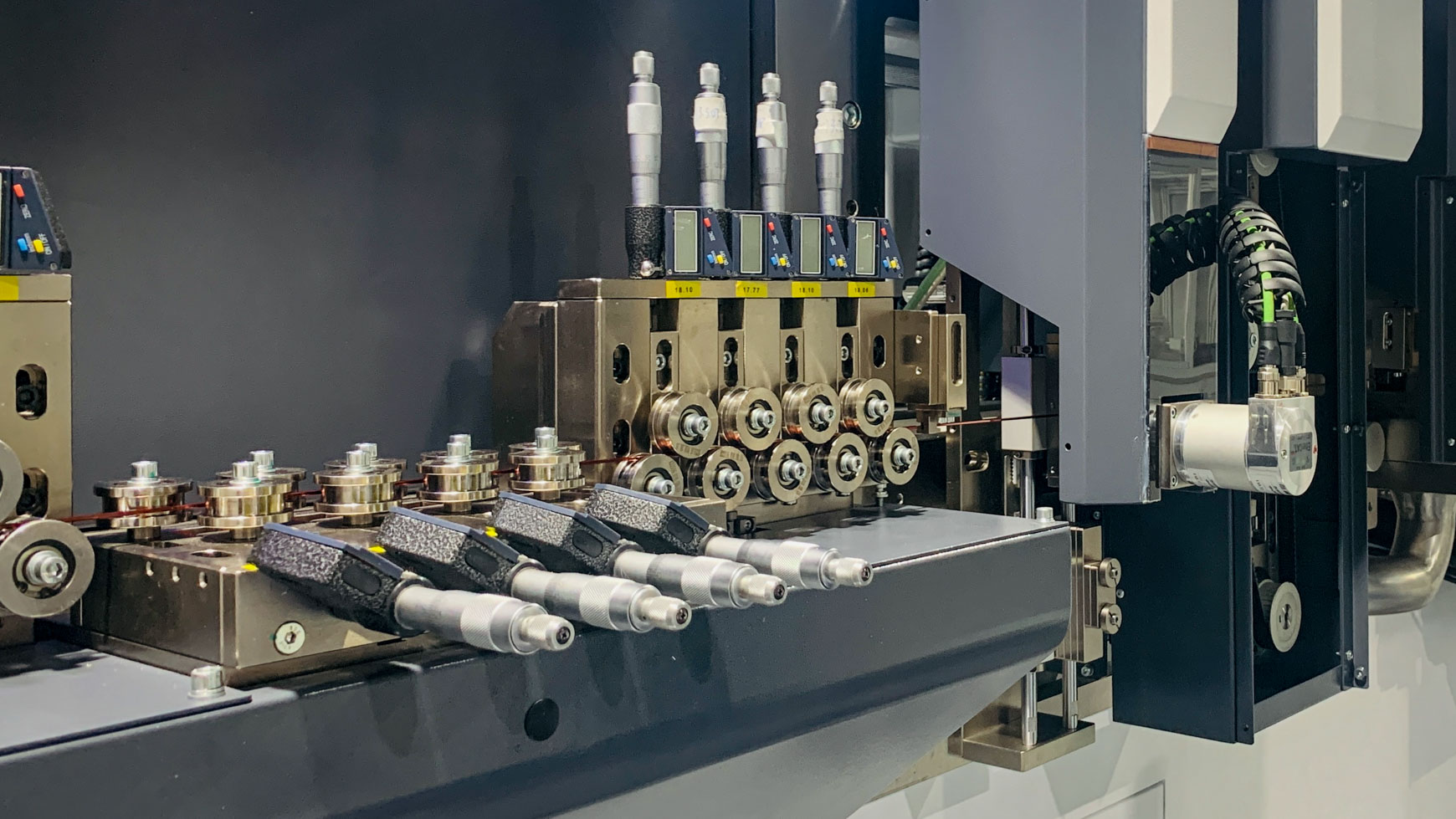 Hairpin Technology
Stators with hairpin technology are used in connection with the manufacture of electric drive motors (traction motors) for electric vehicles, both passenger cars and commercial vehicles. This technology is becoming increasingly important as the transport revolution progresses and more and more vehicles get electrified in almost all countries.
Hairpin technology belongs to the winding processes, although no conventional coils of copper wire are manufactured. Rather, copper bars are used, which are inserted into the stator stack and consist of enameled copper wire with a layer of lacquer. The U-shape of these plug-in coils is reminiscent of classic hairpins. Due to the flat cross-section of the copper wire, the slot fill rate of the hairpin can be higher, which means better power density. In addition, the high fill rate also results in better thermal performance and NVH.
The BBS production machines for the manufacture of hairpin stators are characterized by a specific structure, they are designed for the production of large quantities. They represent the entire process chain:
Wire forming
Paper insertion
Wires insertion
Widen
Twisting
Welding, interconnection
The individual process steps run in individual process cells. These are available as standalone or complete solutions.
See our winding technology section for roving, needle and linear winding technology.
Features
Wire forming
Cycle time 1.5s/pc
Online type change
Online insulation test
Non-stope replacement of the wire reel
Paper Insertion
Cycle time 1.3s/groove
Parallel loading and unloading
Optional dual-channel process to meet cycle time requirements of up to 96 slots
Electronic cam control, compatible with large laminating height
Wires insertion
Cycle time 1.5s/pc
Compatible with B/0 geometry
Vision-based monitoring of the insertion process
Quick replacement of the wire cup
Widen
Synchronous expansion of up to 16 slots
Compatible with non-concentric wire widening
3D vision-assisted control after widening
Quick change of the iris tool
Twisting
Machine cycle time < 60s
Drive structure with torque multiplier
Great adaptability to the insertion mold
Analysis of the closed loop for the Z - Θ compensation curve.
Extremely fast changeover of the twist mold
Welding
High stability: marble platform
High precision: linear motor
High adaptability: 2D + 3D detection before welding
High quality: quality control during and after welding
Are you interested
in professional hairpin technology for your application?